Made in France, Emile Henry's beautiful tagine is perfect for stews, broths, meat, veggies and recipes that require simmering. The unique shape of the lid helps in containing moisture. The steam that's released from food during cooking is circulated and returned to the ingredients in the form of moisture. As a result, your ingredients stay tender, retain their nutrition as well as their natural flavour.
Excellent Features
Made from Flame® ceramic, this visually delightful tagine can be used directly on any heat source or even in an oven.
Flame® Ceramic diffuses heat evenly. As a result, you do not need to cook at high temperatures. The tagine prevents your food from burning and retains flavour and nutrition. It also retains heat after cooking so your food stays warm.
Thanks to the tagine's highly resistant glaze, you can use metal utensils when cooking without scratching its surface.
The tagine's deep, wide base facilitates even cooking through the dish and accommodates ingredients easily.
The base and the lid fit perfectly together to maintain the steam cycle inside the tagine.
Perfect for making slow-cooked recipes such as ragouts, stews or steamed dishes.
The tagine enhances the subtle and delicate taste of spices and gives a delicious, syrupy texture to ingredients.
About Emile Henry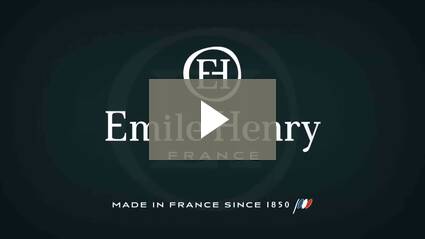 Founded in 1850 in Burgundy, France, Emile Henry is famous for designing and crafting the finest quality of ceramic ovenware, gourmet cooking and bakeware products. Made from high-quality natural materials, Emile Henry products stylishly go from the kitchen to the table. Food made in Emile Henry cookware is healthy, flavourful and aromatic. Sturdy and resilient these products last for years giving you an enriched gourmet experience.
Features

Product Specifications

Material: Flame® Ceramic
Sizes Available: 26 (cm), 32 (cm)
Capacity: 26 (cm) - 1.9L, 32 (cm) - 3.5L

Features

Entirely made of natural materials. Allows you to cook in total safety. Lead, cadmium and nickel free
Due to the absence of metal, food is not oxidized during cooking. Thus, the Tagine retains all the vitamins and nutritive qualities present in the ingredients
Highly resistant glazes allow cooking with minimal amount of fat
Resistant to mechanical shocks, temperature changes and fading colours
Can be used at temperatures ranging from -20°C to 500°C
Goes straight from the freezer to the oven
Can be used on all direct sources of heat such as gas, electric or halogen (with an induction disk for induction hobs) and in the oven
Since the Tagine is made of non-porous ceramic, it does not absorb smells or water and is very easy to clean
Dishwasher and microwave safe
Made in France
10 years guarantee

Warranty

Warranty: 10 years.

This warranty excludes damage to the product from misuse or abuse, such as improper cleaning, neglect, accident, alteration, fire, or theft.

Specification

Use & Care

The Tagine is perfect for making recipes that require slow cooking and simmering
Clean your Tagine with mild detergent before using it for the first time
Always use low heat for the first 5 minutes so that the temperature builds up gradually
Do not heat the base of your Tagine if it's empty. Always use water or oil
Cook on a burner (usually the largest) that's the most appropriate size for the Tagine
When the Tagine is hot, do not place it in direct contact with anything cold, such as cold water or a cold surface. When you take it out of the oven, place it on a neutral surface, such as a wooden board or cloth
Soak the Tagine in hot water and white vinegar to get rid of residues

Material
Ceramic