Staub Cherry Red Round Cocotte, 20 cm
Enjoy nutritious, flavoursome and tasty meals with Staub's self-basting cocotte. Made from high-quality enamelled cast iron, the cocotte is ideal for searing, roasting and braising your foods. The cocotte elegantly stylizes your kitchen and table with its exquisite look and feel.
Estimated delivery time: 1-2 working days
Free delivery when you order this product.
Enjoy the benefits of effective natural simmering with Staub's cocotte. Its under-lid drop structure ensures that condensed water formed during the cooking process is consistently basted over the meal being cooked. What you get are tender, flavourful meats and delightful vegetables, which are rich in aroma and nutrition. Go ahead and indulge in pure cooking pleasure with Staub's cocotte.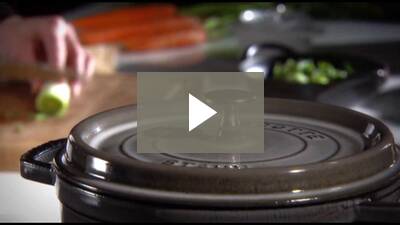 Your Staub cocotte inside-out
Key Highlights
---
State of the art self-basting-system
The basting system based on the specially contoured underside of the flat lid creates a sort of "rain effect", which continuously bastes the food cooking inside the cocotte. This ensures that all the aromas and nutritional values of your ingredients are retained.
---
Excellent moisture distribution and retention
The lid with special spikes distributes moisture 9 times more effectively than conventional lids and retains 10% more moisture than competitors' pots after cooking for 55 minutes.
---
Form and function at its best
The elegance and functionality of the cocotte also extends to its lid and brass or nickel-based centre knob. The lid features a raised rim to serve as a spoon rest or hold ice cubes – a special technique to enhance internal condensation during cooking. The centre knob can withstand 482°F (250°C) temperatures.
---
Enjoy the superior benefits of cast iron
The cocotte is made from enamelled cast iron. The interior of the pot is enamelled with a matte black finish and the exterior has at least one coat of coloured enamel. As a material, cast iron's benefits include:
Excellent heat retention, slow diffusion and even distribution of the same, facilitating gentle simmering and reduced energy consumption
Cold retention – if the cocotte is refrigerated before serving, it will remain cool at the table
Meals cooked in it are delicious, intensely flavoured and nutritious
Sustainability - mainly made from glass, enamel is extremely durable
High-quality enamel offers improved resistance to thermal shocks, scratching and has outstanding non-stick properties
Compatibility with all stove tops, including induction
---
About the Brand
Staub is known for the production of high quality cast-iron products. It is the brand of choice among many of the world's most renowned chefs. Staub products come with the guarantee of flawless quality and are proven in day to day use. Made in France, these products are reckoned by traditional and authentic craftsmanship combined with innovative expertise.
Features

Product Specifications

Colour: Cherry Red
Material: Cast Iron
Shape: Round
Dimensions: Diameter – 20 (cm), Capacity – 2.2 L

Features

Unique handle design ensures a secure and comfortable grip
Easy to clean and use
Compatible with various stovetops

Specification

Use

Before using the cocotte for the first time rinse it with hot water and let it dry. Brush a little vegetable oil over the inside surfaces, heat it for one minute and then remove the excess oil with kitchen paper
Although cast iron is known to sustain very high temperatures, we recommend you gradually increase the heat from low to medium to high in order to avoid thermal shocks and damage of the surface of the cast iron.
Select a stovetop that appropriately corresponds to the base size of your cocotte
When using induction stovetops and glass-ceramic surfaces, always lift your cocotte rather than pushing it, to avoid damages to the cooking surface
Use silicone or wooden cooking utensils to avoid scratching the enamelled surface of the cocotte
The cocotte can be used as ovenware
The cocotte is not suitable for microwave use

Care

Never put a hot cocotte on an unprotected surface
Allow the cocotte to cool before rinsing it with water
If food residues have stuck to the cocotte, do not use abrasive or corrosive detergents, scouring powder or steel sponges to remove them. Instead, soak the cocotte in warm water and then remove the residues with a wash-up liquid and non-scouring sponge
Dry the cocotte thoroughly with a clean kitchen towel and only store it away when it is completely dry
Though the cocotte can be washed in a dishwasher, it is recommended that you clean it by hand for long-lasting and durable use
The lid knob may loosen over time. Therefore, check the screws from time to time and tighten them up if necessary

Material
Cast Iron
Color
Cherry Red