WMF Vitalis Stainless Steel Steamer Set
SKU
WM-17-4002-6040-GROUP
Engage in healthy cooking with the Vitalis Steamer from WMF. It cooks your ingredients in rising steam, without letting them come into direct contact with water. This preserves valuable vitamins and minerals. Vegetables remain tender but firm, poultry remains juicy and fish does not fall apart. The Steamer prevents food from drying out or getting burnt. The excellent heat transfer of steam in it ensures that food is evenly cooked on the outside and inside.
Take a look at the WMF Vitalis Steamer in action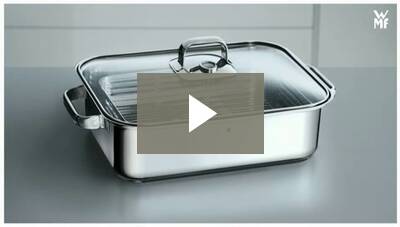 How it works
The Vitalis Steamer set can be used for steaming, cooking, roasting, braising and defrosting your food
The covered roasting pan and steaming rack produce a closed system
When water is brought to a boil in the covered roasting pan, steam is created
The steamer cooks the food placed on the permeable steaming rack in rising steam, without letting it come into contact with water
The integrated thermometer in the glass lid makes it possible to control temperature from the outside without lifting the lid. As a result, the cooking process is not interrupted by an unnecessary loss of energy
The roasting pan can also be used as a cooking pot, a baking dish or a serving dish
Features galore
The roasting pan and steaming rack are made from high-quality Comargan® 18/10 stainless steel. The Steamer comes with a highly polished surface to give you the best use and care properties
The Steamer's TransTherm® universal base distributes heat evenly and makes it suitable for use with all cooker types, including induction
Its high quality glass lid is heat resistant and allows you to observe the cooking process
Its stable handles stay cool. They have been ergonomically designed to provide ease in usage
The lid comes with a built in 100°C thermometer. This allows you to cook each type of food at the right temperature
Depending upon your usage requirements, you can remove the edge of the two-piece steaming rack
About the brand

For more than 160 years, WMF Germany has been known worldwide for its reliable, versatile and stylish range of products. Consistently awarded prestigious design awards for their cutting-edge and contemporary innovations, WMF continues to inspire the cooking and dining experience.
Collection
WMF Vitalis
Features

The Vitalis Steamer has been designed by Peter Ramminger.

Product Specifications

Material: Roasting Pan - Cromargan® 18/10 stainless steel (mirror polished), Lid - Heat resistant glass
Dimensions: The details on the height and capacity of each set are given below -
WMF Vitalis Stainless Steel Steamer Set, 41 cm x 27 cm: Height - 10 (cm), Capacity - 6.5L
WMF Vitalis Stainless Steel Steamer Set, 35 cm x 21 cm: Height - 10 (cm), Capacity - 3.5L

Features

Enhanced durability to resist corrosion
TransTherm® universal base ensures excellent cooking results
Suitable for cooker, oven and induction
Easy to use and clean

Designer
Peter Ramminger
Specification

Use

Do not heat the cookware when empty
Do not let the liquid in your food evaporate completely. If this happens, the food may burn or damage the cookware or cause damage to the hob by melting the aluminium in the base
Only add salt to boiling water. Stir your food contents to prevent salt from damaging or corroding the base

Care

After use, rinse the cookware in hot water as soon as possible
To get rid of food residue, soak the cookware in water and then use a sponge or brush to remove the residue
Do not use steel wool or cleaning fluid containing sand to clean the cookware
Hard water and certain food types can cause marks or shimmering blue discolouration on the inside of the cookware
In order to remove obstinate stains, use the WMF Puragan cleaner (this product is sold separately)
The cookware is dishwasher safe
Do not leave the cookware in the dishwasher for a long period of time. Other objects in the dishwasher can transfer rust onto the cookware, causing corrosion damage