Description
Details
Excellent for Kousa Mahshi and other stuffed recipes, this German-made corer lets you hollow out fruits and vegetables evenly and also creates neat spirals. Be it carrots, zucchinis, potatoes, eggplants, apples or pears, the LURCH drill lets you work with any ingredient. Its twisting motion creates an aesthetic spiral out of the part of the fruit or vegetable being removed. A fine gadget to have in the kitchen, this vegetable corer is great for making traditional recipes and even experimenting with new ones.
The LURCH Veggie Drill Twister in action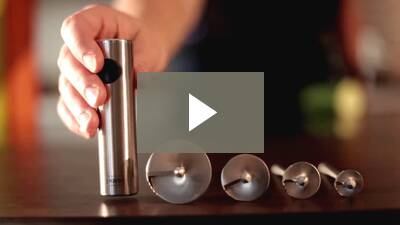 How to use the Veggie Drill Twister
Depending upon the size and thickness of the produce you're working with, you may choose between the XS/S/M/L stainless steel blades to attach to the handle
Vary the amount of pressure that you apply to your produce to achieve desired thickness
Stuff your fruits and veggies with a filling of your choice
The vegetable spirals can be used in salads or served on the side to aestheticize your food
See What You Can Make with the Lurch Veggie Drill Twister
About the brand

Since 1995, LURCH has developed cost effective, functional and innovative manual kitchen appliances. Keeping its consumers' needs in mind, the brand is driven by the motto of offering special solutions that better one's experience in the kitchen.
Features
Features
Product Specifications

Material: Stainless steel
Blade sizes available: XS/S/M/L
Set contents: 4 blades, 1 handle
Features
Use & Care
Use & Care
The Veggie Drill Twister set is dishwasher safe