Description
Details
Be it slicing, grating, chopping, whisking, blending or baking, this Food Processor from Magimix can perform the functions of up to 8 kitchen appliances. This adept appliance comes in handy in everyday cooking and on special occasions. Get your imagination to work, broaden your horizons and indulge in the limitless preparations that you can make with the Processor.
Take a look at how versatile the Magimix Food Processor can be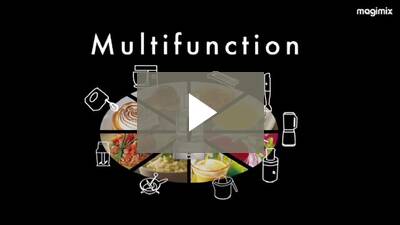 Why do you need this Food Processor?

Because it is:
Simple in usage
- The 3 bowls allow you to effortlessly carry out several tasks in quick succession
- All it takes is just three buttons - stop/auto/pulse to operate this versatile appliance
- The motor automatically adjusts its power depending on what's in the mixing bowl
Robust in performance
- Powerful and efficient - the ultra-quiet induction motor of the Food Processor comes with a 30 year guarantee
- The parts and accessories come with a 3 year guarantee
Also, its accessories are pretty amazing


Extra large feed tube
Enables slicing and shredding of whole or large pieces of fruits & vegetables. Helps in processing more of your favourite ingredients in less time than standard feed-tube processors.
Triple pusher
Perfect for mayonnaise and salad dressings.





Mini bowl and mini blade
Ideal for chopping herbs, onions, small quantities of veggies and making salad dressings.





Midi bowl
Ideal for slicing and grating all types of cheeses, fruits and vegetables.





Main bowl
Ideal for all the big tasks such as mincing, mixing, chopping, kneading, blending, whisking, baking, grating, slicing and emulsifying your food.



Knife blade
Made of stainless steel Sabatier, this blade delivers professional results. Ideal for chopping meat, crushing ice, chopping almonds, blending sauces, whipping up milkshakes and mixing soups.




BlenderMix
Gives you a finer and improved blend for velouté soups, smoothies and pancake batters.





Dough blade
For heavy pasta dough, bread dough, brioche and pastry.





Egg whisk
Whisking egg whites and cream for desserts such as mousse, meringue and more.





Spatula
Facilitates easy cleaning.





Slicing discs
These 2 (mm) and 4 (mm) stainless steel Sabatier discs are prefect for fine or thick slicing.





Grating discs
These 2 (mm) and 4 (mm) stainless steel Sabatier discs are prefect for fine or thick grating.
Recipe book
Will give you mouth-watering ideas for everything from celebration cakes to 3 course dinners.



Here are a few recipes to get you started with your Food Processor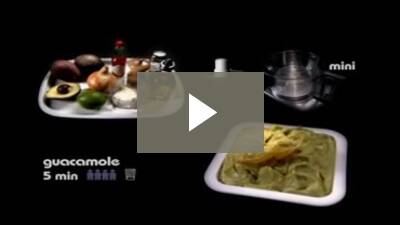 About the brand
It was in France, in the heart of Burgundy, a region noted for its gastronomy, that Magimix invented the food processor 40 years ago. Magimix products are designed to make life simpler for the serious cook. They work well and are built to last for a long time. The product range combines the best cooking traditions with contemporary technology. Thanks to Magimix innovations, the most demanding tasks in the kitchen can be accomplished quickly, easily and quietly.
Features
Features
Product Specifications

Colour: Chrome Matte
Dimensions: Height - 42.5 (cm), Length - 21 (cm), Depth - 26 (cm)
Guarantee: Motor - 30 years, Parts and accessories - 3 years
Power: 950 W
Capacity: Main bowl - 3 L, Midi Bowl - 2.6 L, Mini Bowl - 1.2 L
The processing capacities are as follows:
Brioche dough - 800 Grams
Bread dough - 1 KG
Shortcrust pastry - 1.2 KG
Soup/juice - 1.3 L
Meat - 1 KG
Carrots - 1 KG
Egg whites - 6
Features
Manufactured in France
All parts and accessories are BPA free
Works quietly
All accessories are dishwasher safe
Accessory box enables compact and safe storage
Use & Care
Use & Care
Take a look at how you can use your Magimix 3 Bowl Food Processor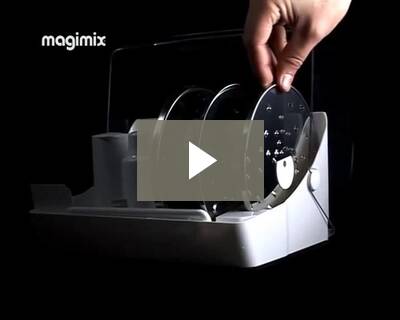 Use & Care
The Magimix 3 Bowl Food Processor can be used to slice, grate, chop, whisk, or blend your food. It comes in handy for baking as well
Always clean the Processor immediately after use
Wipe the motor unit clean with a soft, damp cloth
The removable parts of the Processor are dishwasher safe. Select the minimum temperature (below 40 °C) and avoid the drying cycle (generally above 60 °C)
In case you're cleaning the removable parts by hand, do not leave them to soak in detergent for too long. Dry them immediately after washing
Avoid abrasive cleaning products
Make sure you dry the stainless-steel parts thoroughly to avoid oxidizing stains
Some foodstuffs such as carrots tend to stain plastic. Rubbing with a piece of kitchen paper and a little vegetable oil will remove most of this staining
Safety
Never immerse your Food Processor in water or any other liquid
Keep it out of the reach of young children
Always unplug your Food Processor if you are leaving it unattended, before cleaning it, or when fitting or removing parts
Before plugging the Processor in, always ensure that the voltage indicated on the Food Processor corresponds to the voltage of your mains supply
Connect the Food Processor to a grounding outlet with its original power cord
Never allow the power cord to dangle over the edge of your worktop or counter. Ensure that it never comes into contact with hot surfaces
To prevent injury and avoid damaging the Food Processor never insert your hands or a utensil in the feed tube while the disc, blade or juicer is moving
Only use the spatula when the processor is not running
Never put the processor bowls in your microwave oven
Always handle the discs and blades with caution, as they are extremely sharp
Never install the metal blades or discs on the motor shaft unless the bowl has been locked into position first
Since the blades are extremely sharp, do not use the slicing disc until all the parts have been properly assembled
Do not use your Food Processor if its juicer basket has been damaged in any way
The Processor is equipped with a thermal protection that automatically switches the motor off if it has been running for too long or is overloaded. If this happens, turn your machine off and wait for it to cool down completely before switching it back on again
Never leave a running Processor unattended
Check that the lid is completely in level and correctly locked into position before switching your Food Processor on
Press the STOP button and wait for all the moving parts to come to a standstill before turning the lid
The Food Processor is intended solely for domestic use. Do not use it outside
Warranty
Warranty
Motor: 30 years.
Parts: 3 years.
This warranty excludes damage to the product from misuse or abuse, such as improper cleaning, neglect, accident, alteration, fire, or theft.
Also in this collection
You may also need