Microplane Red Premium Zester
The Microplane® Zester has written history. Formed like a wood rasp they have become a must have for both professional and hobby cooks and remains Microplane's best selling product worldwide. The famous Zester Blade Style creates a very fine grating result that looks like angle hair and is ideal for everything that you want to have finely grated. With its under blade, it makes zesting go a lot faster for larger portions.
Take a look at how it works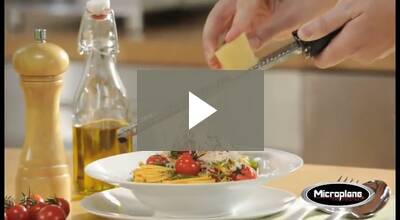 Microplane®, a premier global kitchen products brand, renowned for engineering exceptionally sharp and effective culinary tools. Microplane® graters are expertly created with made in the U.S.A. surgical grade stainless steel blades. The company's expertise in engineering sharp tools has been applied to developing other types of premium kitchen tools such as slicers, choppers and other cutting instruments.
Collection
Premium
Features

Material: Stainless steel blade

Colour: Red

Product Dimensions:
Length (cm): 32.5
Width (cm): 3.5
Height (cm): 3

Exact grating surface: 20.3cm x 2.5cm
Long-lasting, ultra sharp, stainless steel blade
Ergonomically designed soft-touch handle
Anti-scratch rubber ends
Slider-attachment to protect fingers available
Dishwasher safe (grater only; not cover)
Easy storage: reusable protective cover
Four unique blade styles available in this series

Specification

Use finely grated citrus zest for a fresh vinagrette, for specific sauces or even home-made cookies.

Dishwasher safe.

We recommend rinsing your grater in warm water immediately after each use.

Remove particles stuck in the blade from the back side whenever possible. To remove "stuck on food" from the front, first soak the tool in warm water and then use a cleaning brush and stroke in the same direction as the teeth.

If handwashing the blade, air dry thoroughly before storing.

Store with blade covered when not in use.

Material
Stainless Steel