Silikomart Easy Choc Rose Mold
Enjoy making the perfect chocolates or refined mini-desserts at home. EasyChoc molds from Silikomart make it possible to create your chocolates, sophisticated chocolate mini-desserts, and small chocolate sculptures for special occasions.
The Easy Choc Rose Mould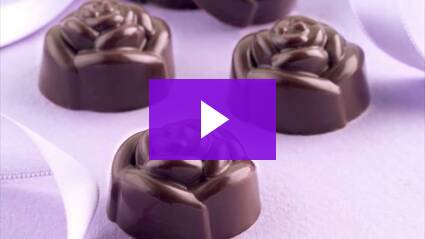 The new EasyChoc chocolate molds by Silikomart give chocolates a unique shape due to their exclusive design. Silikomart molds are easy to use, adaptable, long-lasting, non-toxic and can also be used as an ice-cube tray. EasyChoc molds are made of 100% food grade silicone.
Silikomart is an Italian company specialized in the production of silicone molds and accessories made of LSR liquid silicone.
Collection
Easy Choc
Features

Material: LSR liquid silicone

Product Dimensions:
Diameter (cm): 2.8
Height (cm): 1.8
Capacity: 15 x 7ml = 105ml

Makes a total of 15 chocolates or refined mini-desserts
Rose shaped design
Temperature range from –60°C to +230°C
Hygienic
Flexible and easy to demold
Versatile. Can be taken from the oven or microwave and placed immediately in the fridge or freezer and vice versa
Stable Aging Process. Can be used 3,000 times
CE Compliance. Materials used conform with EU standards
Each mold is treated by a 6-7 hours thermal process, eliminating potential toxic residue
Molds do not produce smoke or odor during baking
No butter or other fats are required to grease the molds
Microwave, oven, fridge and freezer safe

Specification

Use
Melt the chocolate in a Bain Marie or in a microwave container.
Using the multi-purpose funnel pour a part of the melted chocolate in the mold. Let the chocolate stick to the cavities of the mold to avoid air bubbles.
Pour the remaining part of the chocolate. Fillings may also be placed inside or pieces of nuts may be sprinkled on top.
Put the mold in the refrigerator for around 20 minutes.
Remove the chocolates from the mould. Apply light pressure to each cavity of the mold.
Store the chocolates in a dry container and in a dry place.

Care
Hand wash in warm soapy water before initial use. Rinse and dry.
Dishwasher safe.
Do not wash with aggressive detergents or abrasive sponges.
Do not heat the mold on a direct flame like electric hotplates, ceramic and gas hobs.
Do not use knives or other sharp utensils that may scratch the molds.
Do not use the mold with the grill function in the microwave.