Wilton ColorSwirl 3-Color Coupler Decorating Kit, 9 pieces
The ColorSwirl 3-Color Coupler Decorating Kit has everything you need to get started. Use the ColorSwirl 3-Color Coupler to seamlessly blend 2-3 colour icings as you pipe. Choose from double swirl or triple swirl colours. The interlocking coupler pieces connect multiple decorating bags, allowing you to swirl 2 or 3 colours together with one simple piping motion.
How To Pipe 3-Color Icing Swirls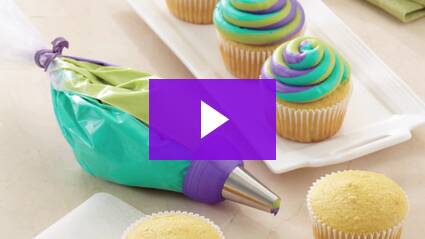 Wilton Enterprises, USA offers the industry´s most comprehensive and innovative selection of baking, cake decorating, candy making, cookie making, wedding, baby, party and seasonal products. These products are designed to make it easy for anyone to enjoy the thrill of serving something special and utilizing a unique style and design while doing it.