Zwilling J.A. Henckels Four Star Bread Knife, 20 cm
The Bread knife with its aggressive scalloped edge and sawing motion is perfect for cutting things that are tough on the outside and soft inside. It cuts through hard crusted breads and tough skinned vegetables such as eggplants, bell peppers and tomatoes with ease.
Take a look at how the Bread knife cuts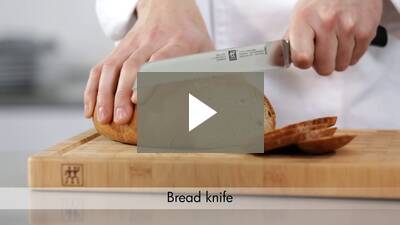 What makes this knife unique
---
Impeccable quality & precision
- The knife is made from Zwilling J.A. Henckels special formula steel. This steel displays the perfect balance between chromium and carbon contents – the secret of high quality steel
- It has undergone the FRIODUR ice-hardening process, which gives it exceptional sharpness and corrosion resistance
- This SIGMAFORGE knife is precision-forged from a single piece of steel for impeccable geometry. This gives it exact grinding and the best cutting properties

Optimal balance, safety & function
- The bolster provides the right balance, acts as a finger guard and prevents fingers from slipping onto the blade
- The seamless transition from the bolster to the handle makes handling the knife a breeze
- The knife is a classic masterpiece featuring safety, ergonomics and comfort in usage
- The aggressive scalloped edge of the knife is more highly arched and its scalloped tips are substantially more pronounced. This results in excellent initial sharpness and gives the blade lasting cutting properties


---

About the Four Star series
More than 30 years ago, Zwilling J.A. Henckels revolutionized the standards for top-quality knives with seamless synthetic handles. A classic masterpiece, the Four Star series with its safety, ergonomics and comfort has become the bestselling Zwilling J.A. Henckels knife series worldwide. The functional precision of this series appeals to one and all.

Here's a peek into the look and feel of the Four Star series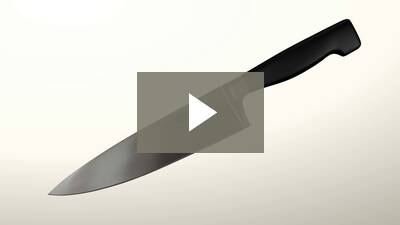 Note: This video is indicative in nature. It does not display the dimensions of the Bread knife.
---

About the Brand
Zwilling J.A. Henckles is a German company, known for using innovative technology to create products of high quality and function. Their product range encompasses kitchenware, flatware and beauty products. Since 1731, Zwilling has built a reputation for outstanding cutting performance. Their innovative knife series is endorsed by professional and hobby chefs world over. Zwilling products and services are driven by the motto and delivery of 'Passion for the best'.
Features

Product Specifications

Material: Blade - Zwilling special formula stainless steel, Handle - Polypropylene (PP) plastic
Dimensions: 20 (cm)

Features

Cuts tough and firm products with ease
Undergoes a laser control process, which ensures that the knife's cutting edge is even and accurate along the full length of the blade
Comes with a carefully deburred surface and has seamless joints. This prevents bacteria and germs from settling on the knife
Extremely durable and can last for many years if looked after properly
Made in Solingen, Germany

Specification

Use

This knife is perfect for cutting hard crusted breads and tough skinned vegetables such as eggplants, bell peppers and tomatoes
Use the knife with cutting surfaces such as wood or plastic. Porcelain or metal surfaces can permanently blunt the knife

Care

Though the knife can be washed in a dishwasher, it is recommended that you clean it by hand for long lasting and durable use
Do not soak the knife in washing up water
After use, immediately place the knife under running warm water and clean it with a soft cloth. If necessary, use a little washing-up liquid and dry it immediately from the back towards the cutting edge
Scrub the blade with a non-abrasive metal cleaner to get rid of stains from acidic residues
Do not use the knife as a screwdriver or a can opener as that can permanently damage its cutting edge
For enhanced durability, sharpen the knife on an occasional basis

Safety


Use the knife with extreme care and precaution
Do not run your finger along the cutting edge to check the sharpness of your knife
Keep the knife away from sources of heat
Place the knife where it can be seen. Never cover it with a kitchen cloth or other utensils
Always pick the knife by its handle. While passing it to others, only do so with the handle pointing towards them
Use a knife that is well suited to the produce you're cutting
Always cut away from the body, step back if your knife slips and falls. Do not attempt to catch the knife while it is falling
Store the knife in a space that children cannot access
Store the knife in a knife block, a case or on a magnetic rack. To ensure stability, place your knife block and cutting board on an even, anti-slip surface
Sharpen the knife on an occasional basis. Not only is a sharp knife more productive but it is also safer to use as it requires less pressure while cutting and does not slip easily