Cuisinart Dual Ice Cream Maker
Treat your taste buds to delicious homemade ice cream with the Dual Ice Cream Maker from Cuisinart. It lets you prepare two delicious flavours at the same time.

Accessories included:
2 x 1 L freezing bowl
2 mixing paddles
Estimated delivery time: 1-2 working days
Free delivery when you order this product.
Create the smoothest, creamiest and the most heavenly frozen ice cream with the Cuisinart Dual Ice Cream Maker. This appliance is a must have for those of you who like to make their desserts at home. Your guests and family will keep asking for more!
The best part about the Dual Ice Cream Maker is that it does not limit your desserts to ice cream alone. You can make sorbets, sherbets and frozen yogurt with it as well.
How to use the Dual Ice Cream Maker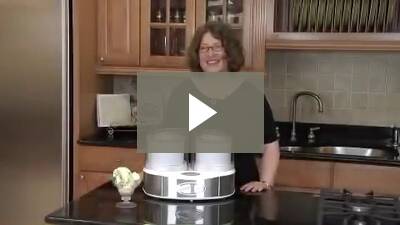 Switch the Ice Cream Maker on
Use a single button to operate this stunning brushed metal dessert maker. Once you do that, it will automatically start its work
Depending upon your preference, you can either make - 1 or 2 portions of the same flavour, 1 portion each of two different flavours
To activate both the bowls, set the control switch to 2 bowls. Else, set to 1 bowl to activate just one
Add your ingredients through the easy-pour spouts into the double-insulated freezing bowls
All you need to do after this is sit back and relax. In about 20 - 25 minutes, the Dual Ice Cream Maker will prepare your dessert
Why it's one of the best ice cream makers around
Brushed aluminium finish
Heavy-duty motor is strong enough to handle ice cream, frozen yogurt, sherbet, sorbet, and frozen drinks
Integrated mixing paddles create smooth ice creams
Transparent lids offer quick access for pouring in ingredients while the paddle is turning. They let you watch your desserts while they're being prepared. Also, they easily lock to the base
The unused part of the cord can easily be pushed into the base to keep your counter neat and safe
About the brand

Cuisinart is recognized world over for its kitchen appliances. The company carries a wide range of products preferred by culinary connoisseurs and favoured by consumers. Cuisinart has a long history of receiving prestigious awards for its products. Some of them include the Gold MarCom Award, Silver LACP Spotlight Award, a Gold Hermes Award and more.
Features

Product Specifications

Dimensions: Width - 22 (cm), Depth - 26 (cm), Height - 14 (cm)
Power: 50 W
Accessories included: 2 x 1 L freezing bowl, 2 mixing paddles

Features

Safe to use
Fully automatic
3 year warranty

Warranty

Warranty: 3 years.

This warranty excludes damage to the product from misuse or abuse, such as improper cleaning, neglect, accident, alteration, fire, or theft.

Specification

Follow these instructions before using the Dual Ice Cream Maker for the first time:

Do not immerse the motor base in water. Wipe it with a moist cloth
Wash the lids, freezer bowls and mixing arms in warm soapy water to remove any dust or residue from the manufacturing and shipping process
Do not clean any of the parts with abrasive cleaners or hard implements
Dry all parts thoroughly
These instructions should also be followed for general cleaning of the appliance

Use, care and storage

You can use the Dual Ice Cream Maker to make ice cream, sorbets, sherbets and frozen yogurt
The freezer bowls must be completely frozen before you begin your recipe. Your freezer should be set to 0°F to ensure proper freezing
Place freezer bowls on the centre of the base
Place mixing arm(s) in freezer bowl(s)
Place lid(s) on base. Set lid(s) slightly off centre and turn clockwise to lock in place
Choose the one or two bowl switch position. If you choose one bowl only, use the right side of the unit. Always select this prior to turning on the unit
Press On/Off switch
Immediately pour ingredients through ingredient spout(s). Once the dessert or drink has begun to thicken, add the ingredients through the ingredient spout. Nuts and other ingredients should be no larger than a chocolate chip
Do not put freezer bowls in freezer if bowls are wet
Do not store lids, mixing arms, or base in freezer
You may store the freezer bowls in the freezer for convenient, immediate use. Before freezing, wrap the bowls in a plastic bag to prevent freezer burn
Do not store frozen desserts or drinks in the freezer bowls in the freezer for more than 30 minutes at a time
Transfer frozen desserts or drinks to an airtight container for longer storage in the freezer

Safety

To protect against risk of electric shock, do not place cord, plug, or base of appliance in water or any other liquid
Close supervision is necessary when any appliance is used by or near children
Always unplug from outlet when not in use, before putting on or taking off parts, and before cleaning. Avoid contact with moving parts. Keep hands, hair, clothing, as well as spatulas and other utensils away during operation to reduce the risk of injury and/or damage to the appliance
Do not operate any appliance with a damaged cord or plug, or after the appliance malfunctions, or is dropped or damaged in any manner
Do not use attachments that may cause fire, electric shocks or have potential of causing injury
This appliance is meant for domestic use only. Do not use it outdoors
Do not let cord hang over edge of table or counter, or touch hot surfaces
Keep hands and utensils out of freezer bowl while in use to reduce the risk of injury to persons or to the appliance itself. Do not use sharp objects or utensils inside the freezer bowl
Sharp objects will scratch and damage the inside of the freezer bowl. A rubber spatula or wooden spoon may be used when the appliance is in the OFF position
Do not use the freezer bowl on flames, hot plates or stoves. Do not expose to heat source. Do not wash in dishwasher; doing so may cause risk of fire, electric shock or injury
To reduce the risk of fire or electric shock, do not disassemble the base
Check voltage to be sure that the voltage indicated on the name plate agrees with your voltage
Do not attempt to repair the appliance your own. Contact authorized service personnel